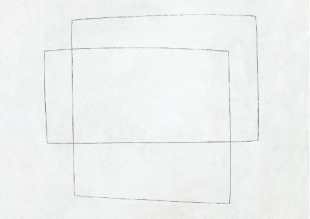 End of year music
December 28 - Music on a loop for days on end: Jasmine with Keith Jarrett and Charlie Haden (back together!). Says Jarrett in the liner notes:"This is spontaneous music made on the spot without any preparation save our dedication throughout our lives that we won't accept a substitute...These are great love songs played by players who are trying, mostly, to keep the message intact." Body And Soul, For All We Know, Where Can I Go Without You. (Thank you, Bernd! What an unexpected present!) And love songs with mezzo-soprano Anne Sophie von Otter and jazz pianist Brad Mehldau. "On the face of it, this is an unlikely partnership: On the one hand, a renowned jazz pianist, with an encyclopedic knowledge of the jazz tradition, and a passionate devotee of American song and pop, from Cole Porter to Radiohead; and on the other, an equally renowned mezzo-soprano rooted in something very European - the Swedish choral tradition - and steeped in classical music from Handel to Poulenc, and yet since they first met in early 2009, a fascinating ′elective affinity′ between these two has emerged." (liner notes) Music to end a year - and get ready for a new one.

Cherry Tree
December 25 - More snow.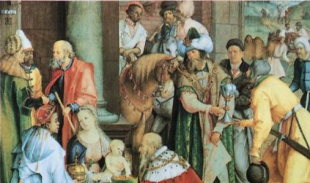 Jauchzet, frohlocket
December 22 - The Christmas Cantatas and the Christmas Oratorio in recordings by John Eliot Gardiner, the English Baroque Soloists and the Monteverdi Choir. "Jauchzet, frohlocket, auf preiset die Tage, rühmet, was heute der Höchste getan! Lasset das Zagen, verbannet die Klage, stimmet voll Jauchzen und Fröhlichkeit an!"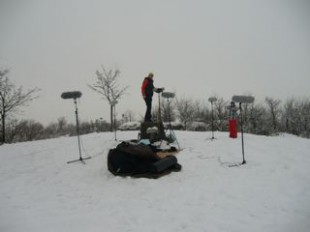 Petersberg | winter
December 21 - Last recording for PLACES_IN_TIME | Petersberg. After spring, summer and fall, we record winter: four cameras looking north, east, south and west. Plus two different set ups for multi channel sound recordings. Thanks to Kai Skowa from S.E.A we have a SoundField ST350 Portable Microphone System to experiment with. The road to the top of the hill is covered in snow and ice. A friend with a landrover helps out and takes Anna, Jonas Hummel, myself and the equipment up (Thanks, Erich!). We start at 2:30 pm to set up. It's cold and hazy with a slight drizzle. At 3:50 pm we start to roll. Standing still in the cold is not easy - after an hour we stop the recording. The haze has turned into dense fog, light has turned into dark. A long natural fade to black. The quiet soundscape was interrupted only by a gang of five boys. They had come up with their sledges to built a snowramp and slide down the hill.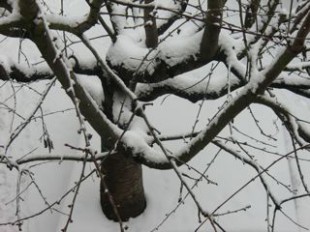 Cherry Tree
December 19 - Fresh snow.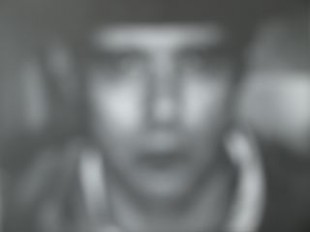 Parallel Processes
December 16 - Visiting Joseph Beuys. Parallel Processes at K20 in Duesseldorf. More than 300 works are on display. The first time I see The pack ((1969), Stripes from the house of the shaman 1964-72 and the poetic Scala Napoletana (1985). "Coming together in "Parallel Processes" are sculptural and pictorial aspects, theoretical reflections, and art actions, along with this artist's idiosyncratic transformations of working materials and objects, to form an extraordinary portrait of Joseph Beuys's unique lifework"(K20).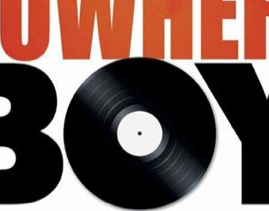 Coming of age
December 15 - The Bambi Filmstudio is Düsseldorf's best art cinema. I see Nowhere Boy, a British-Canadian movie about John Lennon's adolescence. The biopic is based on a biography written by Lennon's half sister and directed by English filmmaker, photographer and video artist Sam Taylor-Wood, JL is played by her partner Aaron Johnson. "A lonely teenager, curious and sharp, growing up in the shattered city of Liverpool..." The film ends, when John tells his aunt, that he goes to Hamburg with his band.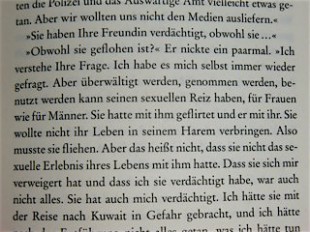 Joy of reading
December 10 -
Sommerlügen
(
Summer Lies
) is the title of the new book by German author
Bernhard Schlink
.
The day she stopped loving her children...So begins the story of a woman who realises that what gave her life meaning no longer does. She goes in search of, and finds the man she loved as a student and who loved her in return. Did she make the wrong decision back then? A son wants to know at long last who his father is and go on a journey with him. A man with an incurable illness arranges a summer with his family to take leave of life while it is still beautiful.
..(Diogenes) The seven short stories of the book wet my appetite. I find fresh supplies in
Liebesfluchten
(
Flights of Love
), a collection of (again seven) stories from the year 2000. Lean prose. Clear vision. Interesting characters. Unusual plots. I am still hungry.
Cherry tree
November 30 - First snow.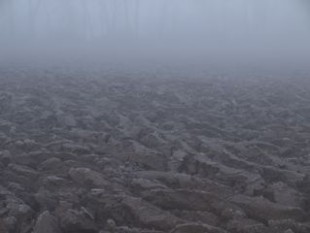 Blur
November 28 - Early Sunday morning walk. Fog and frost on the fields. Sounds of cars from the distant motorway. Croaking of crows.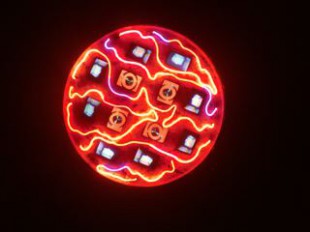 Nam June Paik
November 17 - With a group of twenty students from my course "writing & directing" at the Institute for Music And Media I visit Nam June Paik, an exhibition at museum kunst palast in Duesseldorf. Nam June Paik was closely associated with Duesseldorf and the Rhineland. It was here, that the composer and musician became the "father of video art". From 1979 to 1995 he taught as professor at the well known art academy. We see the V-yramid (1982), a number of TV-Buddhas, One Candle (1989), Internet Dream (1994) and lie down under the Laser Cone, a huge tent with a hallucinogenic laser light show, a collaboration between NJP and Norman Ballard (2001).


November train
November 16 - One of my weekly train rides along the River Rhine. The sky is overcast. I poke in Coming to your senses by Jon Kabat-Zinn - and come across
"The Summer Day" by Mary Oliver:
Who made the world?
Who made the swan, and the black bear?
Who made the grasshopper?
This grasshopper, I mean --
The one who has flung herself out of the grass,
the one who is eating sugar out of my hand,
who is moving her jaws back and forth instead of up and down--who is gazing around with her enormous and complicated eyes.
Now she lifts her pale forearms and thoroughly washes her face.
Now she snaps her wings open, and floats away.
I don't know exactly what prayer is.
I do know how to pay attention, how to fall down
into the grass, how to kneel in the grass, how to be idle and blessed, how to stroll through the fields, which is what I have been doing all day. Tell me, what else should I have done?
Doesn't everything die at last, and too soon?
Tell me, what is it you plan to do
with your one wild and precious life?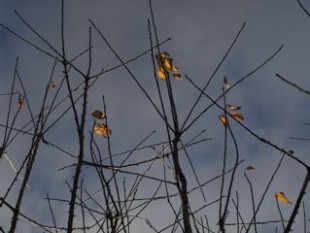 Cherry tree
November 9 - Almost bare.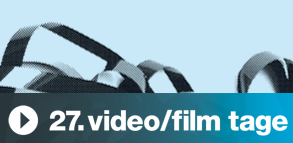 Contest
November 4 + 5 - As a member of the jury of the 27th video/film tage in Koblenz I see twelve preselected films. One of the awards goes to First Try, a documentary film by Denis Thürer about a group of skaters from Halle - a city in the east of Germany, which is everything but a stronghold of skateboarding.

Bird migration
November 1 - Geese calling high up in the sky. There they go again. Have a good flight! Winter is coming.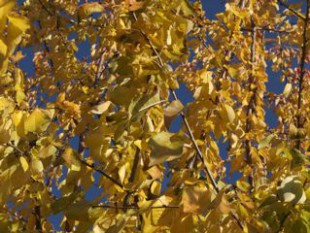 Cherry tree
October 31 - Waiting for a storm.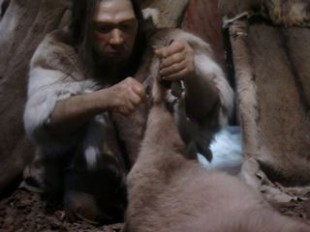 A journey back in time
October 30 - Visiting the Neandertal Museum in Mettmann, 14 km east of Duesseldorf. The beautifully designed permanent exhibition is displayed on a spiraling ramp, gradually winding itself up over four floors, leading to a glass section of the facade looking out over the River Duessel - calling to mind the open outcome of evolution. Five thematic areas give a chronological overview on the "Evolution of Humankind". In the section about "Myth and Religion" I read about storytelling. It is considered the oldest art form. The first hominids could communicate only with gestures and facial expression. The exact point in time when language was developed is not known - since words don't leave fossil traces. From the size of the brain they conclude that the biological precondition was given in Homo erectus ( about 1.8 to 1.3 million years ago). The museum offers a very simple but effective audio guide system with single headphones, that can be plucked into a row of audio plugs at each display.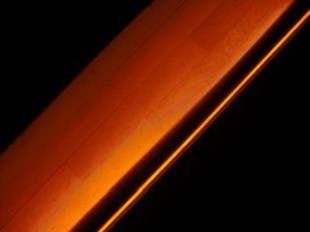 Robert.
October 28 + 29 - "Robert. The last Days" is the title of an evening with music by Robert Schumann at the School of Music and Media in Duesseldorf. A small group of my students designs and produces videos for three projection screens, they run the shows and operate the live cameras.

Apple harvest
October 23 - Small tree, delicious apples. Thank you!

Brick Lane
October 17 - Sunny Sunday morning on Brick Lane Market in the east of London. Smells of second hand shoes. The taste of Indian curry. Rummaging around in boxes with old records and CDs. Katie Melua from the speakers of a ghetto blaster: "This is the closest thing to crazy I have ever been. Feeling twenty-two, acting seventeen. This is the nearest thing to crazy I have ever known. I was never crazy on my own. And now I know that there is a link between the two, beeing close to craziness, and beeing close to you..."

Memory Lane
October 16 - Meeting an Irish woman, a Southafrican and an Englishman. A sudden trip down Memory Lane. In the late Seventies we all worked at Interaction's Almost Free Theater - and we have not seen each other since than. Today Martin Turner is a well known actor. Norman Coates is still designing sets for theatre stages in London. And Tina MacHugh works as a lighting designer for ballet companies and spends half her year travelling through India. Together we remember. "Memory is really important", says 70 year old biker Ted Simon in Jupiters Travels. "Without memory we are like monkeys, like apes, doomed to chaos and foolishness. I think it´s probably the most important single aspect of humanity. Because without it we have nothing to make comparisons with: we can´t tell stories, we can´t develop our imagination. Everything depends on our ability to remember." Thanks, Martin, for arranging the meeting.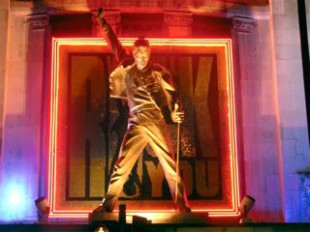 We will rock you
October 15 - London, Dominion Theatre. Eight years after its opening in this West End theatre my son Jakob and I see (and hear!) We will rock you, the hit stage musical, based on songs of Queen. The successful "rock theatrical" was created by Queen guitarist Brian May and drummer Roger Taylor together with British comedian Brian Elton and produced by Robert de Niro. The multi media stage is stunning, the performance outstanding. The story is simple: "We will rock you is set in the (near) future, on a place once called Earth. Globalisation is complete. Everyone watches the same movies, wears the same clothes, and thinks the same thoughts. A safe, happy Ga Ga world. The Company Computers generate the music and the kids download it. All musical instruments are banned. But resistance is growing. A hero is needed." Great fun.

Darwin Centre
October 14 - Visiting the new Darwin Centre and its breathtaking "Cocoon" in the Natural History Museum in London. The 8-storey high landmark building has the shape of a gigantic cocoon and claims to be the largest sprayed concrete curved structure in Europe. Its surface is hand-finished polished plaster, bound in steel channels resembling the silk threads of a real cocoon in nature. The magnificent structure houses and protects the museum's 20 million plant and insect specimen collections. Around the central cocoon are state-of-the-art scientific research facilities where hundreds of scientists work on cutting-edge research. Visitors and scientists can share the excitement of exploring, studying and preserving the natural world. Walking down the spiral walkway inside the futuristic building we marvel at huge wall displays and projections and engage in cool interactive activities in high-tech audiovisual installations.

Petersberg | fall
October 1 - Recording the sounds and images for the fall sequence of PLACES_IN_TIME | Petersberg. There is a light breeze and the afternoon sun is still warm. The vineyards around the hill echo the shots of canons and guns to scare off the starlings.

approximation festival 2010
September 28 - The first night of this year's festival for solo piano at Salon des Amateurs in Duesseldorf. I hear Rachel Grimes and Aki Takase on the first and Barbara Morgenstern and Kathleen Supove on the second night. Every concert in the festival is a surprise in itself. I especially enjoy Aki Takase, whom I had the pleasure to work with during the shooting of freehand, a film about her husband Alexander von Schlippenbach, which I made 13 years ago. She plays "Solitude" and other pieces by Duke Ellington - in her very own Aki Takase style. Thanks Volker for putting together another great festival!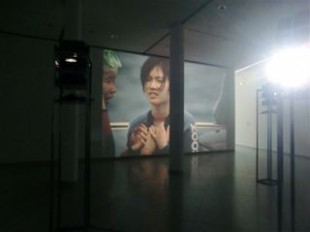 Fashion
September 24 - Opening of the exhibitions Not in Fashion (fashion and photography of the 90s) and The Lucid Evidence (photography from the collection) at the Museum fuer Moderne Kunst Frankfurt. Among other things the exhibitions to me are "lucid evidences" of the rapid aging of photographs. Many works have engraved highly visible time stamps. If "fashion is a general term for the style and custom prevalent at a given time", many photographs are out of fashion today. Of course the exception proves the rule: Thomas Ruff's series of portraits from the late 80s and Beat Streuli's five screen slide projection Bondi Beach/Parramatta Road, originally produced in 1999, seem timeless and have already the aura of classics.


DOT
September 21 - A friend in a far-away-land sends a message. She points out dot, a wonderful short film. The protagonist of the film is "the worlds smallest stop-animation character shot on a Nokia N8". The friend also points out the Making of., not less wondrous. "It's not technology, it's what you do with it." Thanks Deborah!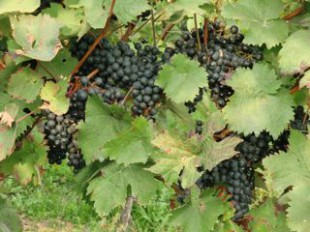 Vintage
September 18 - This year's harvest of the grapes has started in our home town. The winemakers complain about to much rain.
The Stranger
September 12 - Waking up in a friends home in Cologne. On the bookshelf next to the bed a small volume. It is by Charles Baudelaire: "Tell me, enigmatical man, whom do you love the best, your father, your mother, or your sister, or your brother? I have neither father, nor mother, nor sister, nor brother. Your friends? Now you use a word whose meaning I have never known. Your country? I do not know in what latitude it lies. Beauty? I could indeed love her, goddess and immortal. Gold? I hate it as you hate God. Then, what do you love, extraordinary stranger? I love the clouds, the clouds that pass up there. Up there the wonderful clouds!"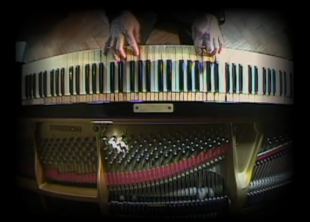 Bach Panther
September 11 - Alex Ross is a music critic at the The New Yorker and author of The Rest is Noise (the best book about 20th century music!). In his blog I come across Bach Panther, a video of french composer Stéphane Delplace playing Bach/Mancini. The video is also an encouraging invitation to film a piano in a new way.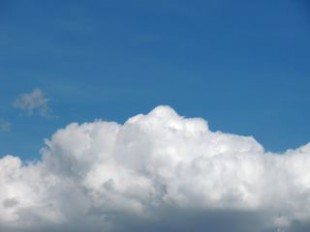 A small theory
September 5 - "People observe the colors of a day only at it's beginning and ends, but to me it's quite clear that a day merges through a multitude of shades and intonations, with each passing moment. A single hour can consist of thousands of different colors. Waxy yellows, cloud-spat blues. Murky darkness. In my line of work, I make a point to notice them." Says the narrator in Markus Zusak's book The Book Thief. The narrator is Death himself.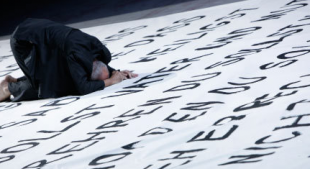 Opera on TV
August 28 - In August 2009 Willy Decker started his first year as artistic director of the Ruhrtriennale staging Arnold Schoenberg's opera Moses and Aron, with Dale Duesing and Andreas Conrad in the name parts. A year later I enjoy the TV version of the acclaimed production on 3 sat. The remarkable multi camera recording was directed by Hannes Rossacher. The Austrian filmmaker is one half of the "Torpedo Twins" (Rudi) Dolezal and Rossacher, who - since 1976 - produce music programs for television, video clips and documentaries about music and musicians.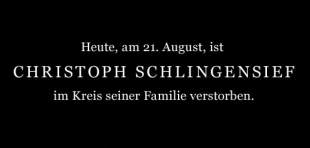 Failure is chance
August 21 - Today a great German artist died. "If your life transmutes into a tragedy, try to look at it as a member of the audience" (Christoph Schlingensief, 1960 - 2010)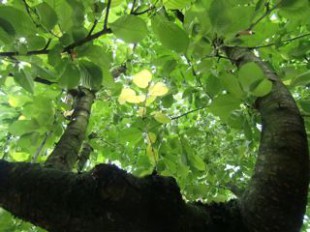 Cherry Tree
August 11 - Home is where the cherry tree is.

Sound and motion
August 5 - Sunrise. A beach at the southern tip of Zanzibar. A static shot - 30 minutes. The sound of swashing waves. The image has three horizontal parts: on top the sky, in the middle the water and at the bottom the sand. Every now and then a human beeing (or a dog) walks across the sand - from left to right or from right to left. "Landscapes are not just visible entities we see, but also the soundscapes we hear. They include, of course, the community of living things present in a habitat: the trees, the birds, the mammals (including the humans), the insects and the microbes...A landscape is what all these lives and forms amount to. And everything in a landscape is in motion, fast or slow; everything is engaged in interrelationship." (Mark Tredinnick)

Can the essence of a place be reproduced with audiovisual media?

How much of the ambience of a place depends on sound and movement?

With HD the rendering quality of moving images has reached a new level. DSLR and EVIL cameras record moving images in HD quality and allow the use of a wide range of lenses. Stereo and surround sound recording equipment has become portable. Leaving aside the fact that the image is still two-dimensional, nature can be captured as it is: moving and sounding. Is still (landscape) photography coming to its end?

What would Ansel Adams or Michio Hoshino have to say? Are living photographers like Robert Adams, Frans Lanting, Jim Brandenburg and Gary Braasch concerned with these new technologies? Will the still (and silent) image be "retro" soon?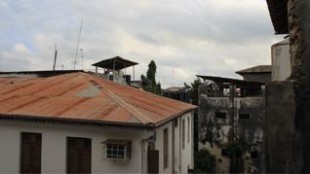 Zanzibar
July 29 - Stown Town, Dhow Palace Hotel. Originally the home of a rich merchant, the bulding stands for more than a hundred years in the heart of Stown Town. A carved Zanzibar door, creaky stairways, huge faded mirrors in golden frames, stained glass windows, old gramophones on mahogony chests. A place out of a dream. A place to dream. I get up at 5 am to set up the equipment on the wooden balcony. Waiting for the muezzin - in vain. The camera records two 14 minutes long images of a corrugated sheet roof on the house next door in front of the cloudy morning sky, while the stereo microphone records the flapping of pigeons, the calls of roosters and crows, the two stroke engines of scooters and the zuaheli speaking voices from the narrow street below. A new scene for PLACES_IN_TIME | windows and balconies.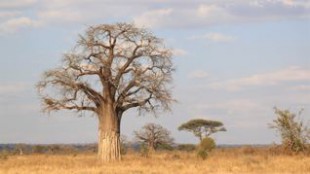 Baobab
July 28 - Tarangire National Park. Recording 12 minutes of a landscape with a Baobab tree. "The tree where man was born, according to the Nuer, still stood within man's memory in the west part of the south Sudan, and I imagine a great baobab thrust up like an old root of life in those wild grasses that blow forever to the horizons, and wild man in naked silhouette against the first blue sky. That bodeful man of silence and the past is everywhere in Africa. One hears the silence, hears one's step, and stops...and he is there, in the near distance. I see him still: a spear point glitters in the sun." (Peter Matthiessen)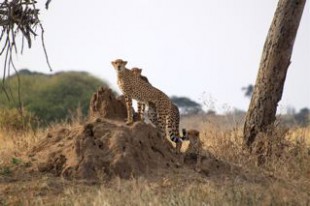 Alertness
July 27 - Tarangire National Park. Three cheetah moving through the high grass. Slowly. Observant. Attentive. Focused and relaxed at the same time. The alertness of a hunter. The cat with the paws of a dog can accelarate from 0 to 100 km/h in three seconds. The fastest land animal. Elegant, beautiful, admirable.


Wild places
July 26 - Bumpy ride from Serengeti to Ngorongoro. Stopover at Oldupai Gorge, "the cradle of mankind". What is land? What is landscape? What is place? Places can be powerful. A place can move a person. Especially a wild place. People form emotional and spiritual bonds with places. A place can teach people. We can learn from landscapes. Not learning like learning from books or talks. It is a more visceral kind of learning. A magic transmission of knowledge. A knowledge that is inherent in a place. It can be optained with patience and gratefulness. By walking for example, or by standing or sitting still for a while. Looking and listening. Sensing. Looking for the sake of looking. Listening to "the land's wild music" (Mark Tredinnick). It takes time. Sometimes you get it fast - but it can also take a long time to hear what a place has to say. "The land is like poetry", writes Barry Lopez in Arctic Dreams. "It is inexplicably coherent, it is transcendent in its meaning, and it has the power to elevate a consideration of human life."
PLACES_IN_TIME | Serengeti
July 25 - Walking outside the bounderies of the lodge is not allowed. The baboons, buffalo, elephant, giraffe and zebra come close to the building. So I get up early and drive into the dark. I need to move away from the generators in order to record the sounds of the dawn chorus and a 15 minutes shot of the sunrise. It is windy and cold. At 6:20 am the sky starts to brighten. The practice of recording sounds and moving images of places has become a conscious exercise in awareness to me. A technique that helps me to pay attention, to concentrate on the mood of a place at a particular time. It also serves as an excuse to get away from people.

Fellow prisoners
July 24 - Lots of buffalo. Buffalo are herding animals and can be found in groups of 300 and more. They travel with the seasons, seeking good quality forage or water. Buffalo do not have water-saving adaptations and must drink regularly. They are strong and can be very aggressive. While they move self-assured in their environment and we observe with strangeness, a thought by Henry Beston crosses my mind: "We need another and a wiser and perhaps a more mystical concept of animals. Remote from universal nature, and living by complicated artifice, man in civilization surveys the creature through the glass of his knowledge and sees thereby a feather magnified and the whole image in distortion. We patronize them for their incompleteness, for their tragic fate of having taken form so far below ourselves. And therein we err, and greatly err. For the animal shall not be measured by man. In a world older and more complete than ours they move finished and complete, gifted with extensions of the senses we have lost or never attained, living by voices we shall never hear. They are not brethren, they are not underlings; they are other nations caught with ourselves in the net of life and time, fellow prisoners of the splendour and travail of the earth."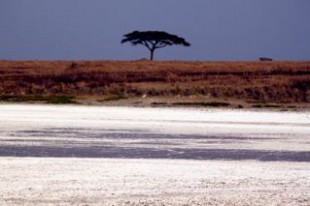 Serengeti
July 23 - I was eight years old, when I saw Serengeti Shall Not Die, a film by Michael and Bernhard Grizmek. It had just won the Academy Award for best Documentary Feature - a fact, that did not mean anything to me at the time. The shots from the small zebra striped aeroplane (D-ENTE) were very impressive and the haunting voice of Professor Grizmek was telling of wild wonders and utmost urgency. The Serengeti became my first landscape of desire. Half a century later I am standing next to my wife and our three children in the back of a landrover at the edge of a dry alkaline lake in the middle of the endless savannah. We listen to the silence of the late afternoon. A black-backed jackal walks gently across the salty ground, pretending to ignore our intrusion.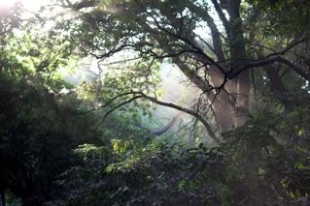 Lake Manyara
July 22 - The clock tower in Arusha marks half way between Cairo and Cape Town. From here we drive about 120 kilometers west to Mto wa Mbu. At the edge of the small town is the gate to Lake Manjara National Park. The freshwater lake - Ernest Hemingway called it "the loveliest lake in Africa" - is part of the Great Rift Valley. It's enchanting forest draws its nourishment from underground springs . Wildlife is abundant. On a two and a half hour game drive through the park we meet its wild inhabitants: Baboons, Blue Monkeys, Green Monkeys, Vervet Monkeys, giraffes, elephantes, impalas, hippos, zebras, water bucks, massive buffalos, delicate dik-diks and muscular warthogs. We witness a brave couple of egyptian geeze defending their eggs against a hungry monitor lizard. And with the help of the fabulous Field Guide to the Birds of East Africa, which belongs to our knowledgable landrover pilot Edwin, we identify Yellow-billed Storks, African Grey Hornbills, Grey Crowned Cranes ("national bird of Uganda"), pelicans, cormorants, flamingos, the colorful Superb and Hildebrandt's Starlings and the Steel-blue Whydah with its long tail.

ET 801
July 21 - Addis Ababa - Nairobi - Kilimanjaro. We fly past the highest mountain in Africa. The white cap on its peak gets smaller. The loss appears to be dramatic since I have seen it from Kenya nine years ago. Scientists say, that the glaciers have lost 82 % of their mass since 1912, when first measurements were taken. They estimate that the snow, that was there for almost 12 000 years, will be gone by 2020. I wonder how Harry, the hero in Hemingways short story The Snows of Kilimanjaro, would feel about the baldness. Harry is a big game hunter on safari who develops an infected wound from a thorn puncture. While he is quarreling with his wife, awaiting his slow death, "he realizes that although he has seen and experienced many wonderful and astonishing things during his life, he had never made a record of the events; his status as a writer is contradicted by his reluctance to actually write".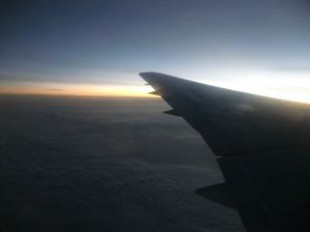 ET 707
July 20 - Frankfurt - Addis Ababa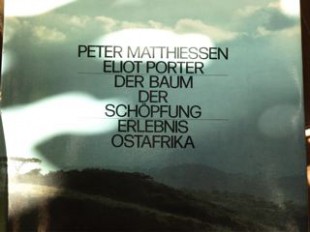 Break
July 17 - End of term. In order to brake for the break I start reading the German translation of Peter Matthiessen's classic The Tree Where Men Was Born (with photographs by Eliot Porter). Since The Snow Leopard (1978) the nonfiction writer and novelist, who is also a zen priest and an active environmentalist, is - next to Barry Lopez - one of my favorite nature writers. His writing is music. "...his prose sounds like the shore", says Mark Tredinnick in his book The Land's Wild Music. "It's note is like the sighing of the sea wind, like the sound of waves falling and receding." In The Tree Where Men Was Born I read: "Night had fallen by the time the truck had cleared the city, and a spray of stars froze on a blue-black sky. The vague track wandered south into a soft emptiness of cooling sand, haired over thinly, here and there, by bitter thorns of drought. In the headlight's jogging beam danced ghostly gerbils, hopping and fluttering on tiptoe, like stricken birds. And farther onward, close to midnight, where the sands relented, came the birds of night - the African owl, and nightjars, and pale Senegal stone curlews whirling straight up into the dark like souls departing."

Cherry tree
July 5 - Harvest. Making jam. Canning. Preparing for winter.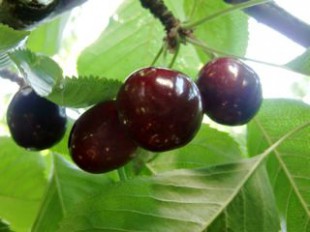 Cherry tree
June 28 - mmmhhh!...the taste of freshly picked cherries. By the way The Taste of Cherry is the title of a short film by Iranian

filmmaker

Abbas Kiarostami. The film tells the story of a man who drives through a suburb looking for someone who can carry out the task to bury him after he has commited suicide.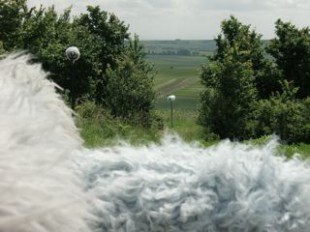 Petersberg | summer
June 21 - Summer solstice. In collaboration with Jonas Hummel we record the second sequence for PLACES_IN_TIME | Petersberg. During the set up a hiker comes by, asking what we are up to. After I explain, that we record four views from the mountain for one hour plus an elaborate surround sound, he invites us to follow him. From his backpack he takes out a pedulum with a big cristal at the end. He holds it on his outstreched arm - and after a while the thing starts to swing and finally rotate like the propeller of a helicopter. He says, that the top of Petersberg is a cross-way of "ley lines". The believers in ley lines think that the lines are "old straight tracks", and that their intersection points resonate a special psychic or

mystical

energy. His name is Klaus Gahn, and it turns out, that he is a local expert on energy, running workshops and the Chakra-Energie-Zentrum in one of the villages below. This time we start the cameras and sound recording devices at 11:30 am in order to capture the church bells at 12 o'clock.The cameras are set up in the same spots as on May 1, looking north, east, south and west. The noise from farmers working with trucks and machinery in the fields is much louder than in May. So are the planes overhead. In October, after the harvest, we plan to come back.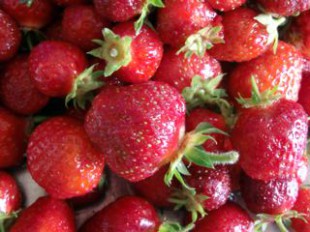 Joys of summer
June 19 - A bucket of freshly picked strawberries appears on our window sill. Thank you Irm and Ludwig! Through our kitchen window we have watched them growing in the neighbor's garden, turning from green to red. We will wash and eat them - with sugar and cream. "Nothing is real. And nothing to get hung about...Living is easy with eyes closed. Misunderstanding all you see. It's getting hard to be someone, but it all works out...strawberry fields forever..." (Beatles, 1967)

Cherry tree
June 14 - Waiting in pleasant - mouth watering - anticipation.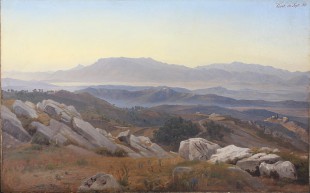 From the Rhineland into the world
June 2 - Visiting an exhibition of landscape paintings by Johann Wilhelm Schirmer at museum kunst palast in Duesseldorf. Schirmer (1807 - 1863) was a landscape artist from Juelich. He first was a student, and subsequently became a professor in the academy of Düsseldorf. He is known as one of the first of the so-called Düsseldorf School.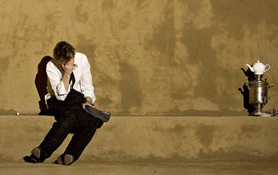 Visiting relatives
May 25 - Another highlight at this year's May Festival at Staatstheater Wiesbaden: The ensemble from Deutsches Theater Berlin performs Uncle Vanya by Anton Chekov, directed by Juergen Gosch with Ulrich Mathes playing the name part. Why is it so pleasurable watching people wasting their lives?"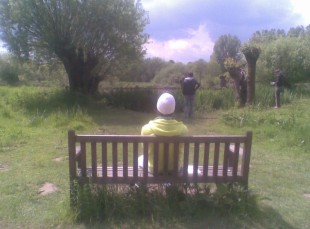 Art and nature
May 19 - Excursion with a group of students from my sensory awareness course to Museum Insel Hombroich outside of Duesseldorf. The May sun brings out the lush green of the meadow - and the tall spikes of the lavender blue Camassia leichtlinii Caerulea stand tall like laterns luring into another world. Said John Cage: Nothing has changed, but now our eyes and ears are ready to see and hear.

When most I wink
May 15 - Berliner Ensemble presents Robert Wilson's Shakespeares Sonnette during the International May Festival 2010 at Hessisches Staatstheater in Wiesbaden. Colorful costumes, stylish puppets, well-performed, perfect. Music written by american-canadian pop star Rufus Wainwright. Theatre entertainment at its best. But what the heck does it mean? Thankfully the program unveils the two dozen sonnets in English and in German: When most I wink then do mine eyes best see.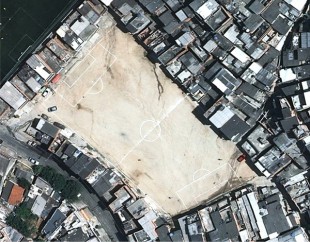 O Campo
May 2 - Great new book by photographer / self publisher Joachim Schmid: "My new book O Campo, or in its translation The Field, is a photographic compilation of football fields in Brazilian cities. The images were taken via satellite and they show the rather oddly shaped football pitches that seem to be built wherever possible – the desire for playing the game has clearly surpassed and ignored the limitations of natural topography and FIFA's laws of the game. According to the official rules and regulations (which are included in the book as an epilogue) you would not be allowed to play football on any of these fields. However, the careers of many of the world's best football players began on these very same fields despite their askew angles, odd proportions, mis-shapen border lines and pitch markings. Studying the architectual contexts of these fields we get an idea about the social context where these players come from."

Petersberg | spring
May 1 - Recording the spring sequence for PLACES_IN_TIME | Petersberg in collaboration with Jonas Hummel, student in the final year of the audio and video programme at the Institute For Music And Media, and with the assistance of my daughter Anna Marie. We start at 5 am to set up four cameras and 12 microphones to capture one hour of the break of dawn on top of Petersberg, a small hill overlooking the fields and vineyards of Rheinhessen. The cameras look north, east, south and west. And the microphones listen to the concert of the birds, pheasants, bells and aeroplanes. The sky is full of clouds and the atmospheric humidity is high. The rain stops just before we start to set up - and it starts again after we've packed. We plan to record again in summer, fall and winter. The idea is to recreate the feeling of the place in a walk through multi media installation with four monitors and a surround sound system first to be presented at the IMM in early 2011.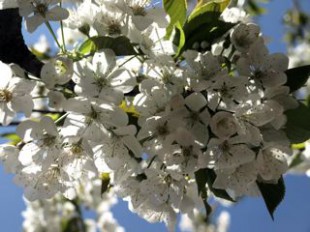 Cherry Tree
April 24 - In full bloom. Giving shade to a reunion with former students. Thanks for coming: Nanna, Philip, Rainer, Martin, Bodo and Ralf. Let's do it again.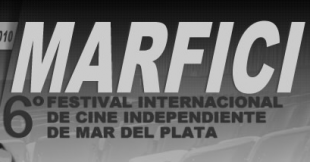 Argentina
April 23 - Three films I made in the 90s are invited to the 6th Festival Internacional De Cine Indepediente de Mar del Plata in Argentina. They will be shown at the Corrientes Cinema on May 8th and 12th. About 4: Kronos Quartet and Kronos Quartet: In Accord at 4 pm and Steve Reich: City Life at 8 pm. Thanks, Diego Menegazzi - for the invitation!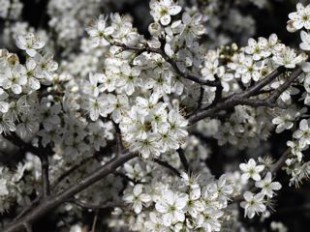 The scent of spring
April 11 - A cold easterly wind carries the irresistable scent of the Hawthorn.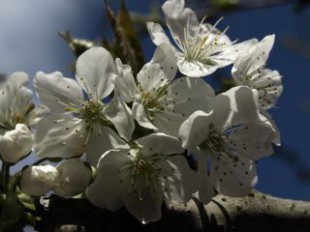 Cherry Tree
April 10 - First blossoms.
In the first chapter of his book "A New Earth" Eckhart Tolle writes: "As the consciousness of human beings developed, flowers were most likely the first thing they came to value that had no utilitarian purpose for them, that is to say, was not linked in some way to survival. Humans feel such fascination for and affinity with flowers' ethereal qualities. They have provided inspiration to countless artists, poets, and mystics. That first recognition of beauty was one of the most significant events in the evolution of human consciousness. The feelings of joy and love are intrinsically connected to that recognition..."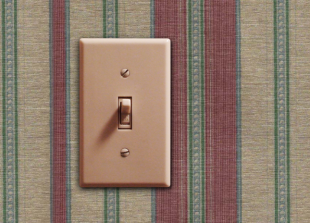 Earth Hour 2010
March 27 - 8:30 pm switch off!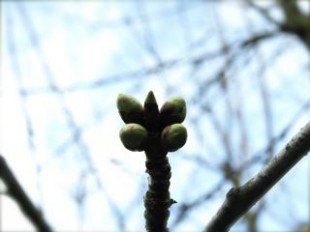 Cherry Tree
March 26 - First buds.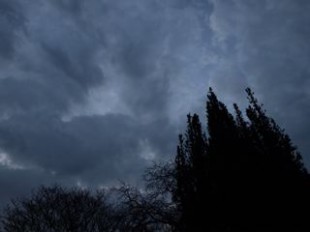 Dawn Chorus
March 25 - The birds are back. I get up at 5 am to listen to their chorus.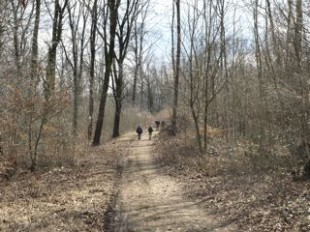 El Camino de Santiago
March 13 to 17 - Last year a friend started at the cathedral in Cologne to walk the Way of St. James. With a handful of modern-day pilgrims he goes for week long legs. I joined the group in Metz in France and hiked with them for five days along the river Moselle to Toul. Through forrests, industrial areas and battle fields of the First World War. Eight hours every day: breathing in, breathing out, labeling thoughts.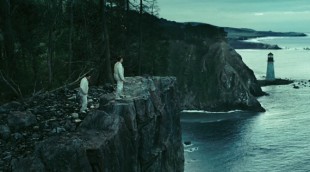 New Music
February 9 - After watching - and especially listening to - Shutter Island, the new film by Martin Scorsese, I discover the music of Max Richter. What an adventure!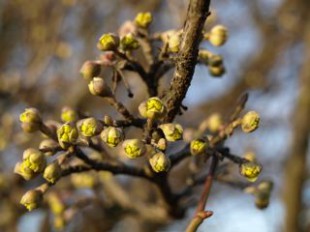 Spring
March 8 - Today - amidst frozen fields - I caught a glimpse of spring. In The Place Where You go to Listen, a recent book by American composer John Luther Adams, I find this quote by sculptor and video artist Richard Serra: "Simple observation is my most important formal device...The interrelation of observation, analysis and memory become, so to speak, the tools of the trade."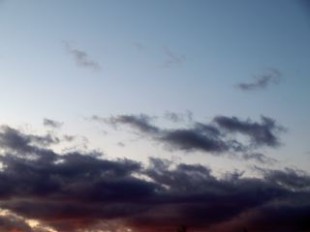 Call of the cranes
March 1 - During a walk at dusk with a neighbor. First we hear their cries - high up in the sky. Then we see their V- shaped formations. Thousands and thousands of cranes flying east. Winter is ending. Everytime I witness birds in migration I am deeply moved. In 1915 Finnish composer Jean Sibelius wrote in his diary: "The swans are constantly in my thoughts and add glory to life. Strangely enough nothing else in this world, not in art, literature or music has the same effect on me as these swans + cranes + geese. Their sounds and essence."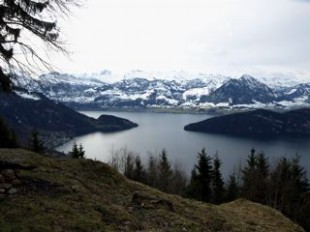 Rigiweg
February 26 - Rigi is a mountain near Lucerne in Switzerland and part of the Swiss Alps. It's also known as the "Queen of the Mountains" - maybe because Goethe and Mark Twain where up there, and in 1869 Queen Victoria was carried up in a litter. The Rigi path, leading up from Weggis to the summit, gives breathtaking panoramic views across the Alps. It is also an old pilgrim's trail with chapels and monesteries along the way. At around 10 a.m. I sit on a yellow bench a couple of hundred meters downhill from Felsentor. The cold of the wooden slats permeates my bones. I look south across Lake Lucerne towards the snow peaks of Uri-Rotstock and Mount Titlis. A cool breeze comes up from the water. There are still patches of snow in the shadow of the trees. I hear the bells from the church in Weggis down below and the hum of an aeroplane high above. Around me there is a mild rustle in the trees and scattered bird song. The surface of the lake reflects shades of dark green and silver. Two barges move slowly across. Was that a hoof mark of an ox I saw on the muddy path?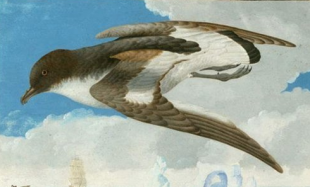 Every cloud has a silver lining
February 20 - A bad cold keeps me in bed. Reading is too exhausting. So I listen to the voice of actor Frank Arnold. On six CDs he reads A Voyage Around the World, a largely forgotten classic by Georg Forster, a German naturalist, travel writer and revolutionary, born in 1754. The book was published in 1777 and is an account of James Cook's second voyage in search of the mythical southern continent. Although the fabled land was not found, the voyage yielded considerable new ethnographic, scientific and botanic knowledge. Far longer than Cook's own account, the narrative of the young author was distinguished by its ethnographic sophistication. Forster was only seventeen years of age when he boarded the HMS Resolution with his father. Back home, a few years later, when the French took control of Mainz (my home town) in 1792, Forster became one of the founders of the Jacobin Club there and went on to play a leading role in the Mainz Republic, the earliest republican state in Germany.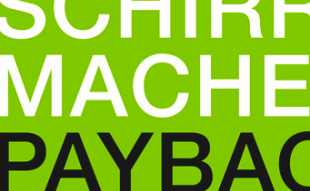 Same old fears
February 15 - "... I can't cope with the mental demands of our time anymore", says Frank Schirrmacher in the first sentence of his book PAYBACK (why is it called PAYBACK?). He talks about the flood of emails, telephone calls, feeds and tweeds, that he is confronted with. As one of the most influential German journalists he is an expert in selfmarketing and knows how to vocalize the worries of our time. "We are apparently in a situation where modern technology is changing the way people behave, people talk, people react, people think, and people remember", he says. Apparently he hit the right button: Everyone talks about the book. So I read it too. And? "Running over the same old ground. What have you found? The same old fears!" But wait - along the way I also found a few interesting books and theories he quotes. Most notably Proust and the Squid: The Story and Science of the Reading Brain by Maryanne Wolf. And the psychology of possibility by Ellen Langer and her theory of mindfulness. Plus an unexpected conclusion at the end of the book: "A society", Schirrmacher writes, "that restores control of the way it thinks, is a society, which offers meditation as part of the curricula in schools and universities".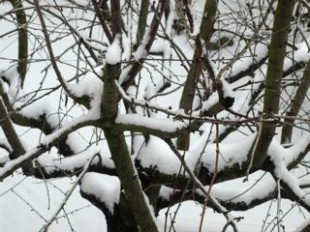 Cherry Tree
February 12 - Even more snow, and no end in sight.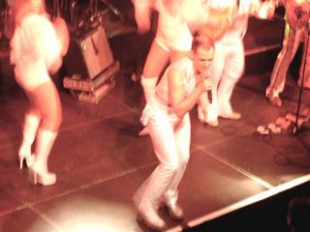 Papa Was a Rollin' Stone
February 6 - Frankfurter Hof in "Crazy Mainz". It's the night I become a fan of "Fred Kellner and the famous Soulsisters". But who the hell is Fred Kellner? I identify two keyboards, two electric guitars, an electric bass, two saxophones, a trumpet, drumset and percussion. Plus three violins played by three gorgeous looking girls. In front two breathtaking soul sisters in hot pants with impressive voices. Plattform shoes and bell bottoms. Funk & Soul nonstop for two and a half hours. I learn that Fred Kellner is presenting this kind of music since 22 two years. But who is he/she? The house tonight is sold out. For most people in the audience the band is cult. Little by little I find out, that everyone in the band has the same name: Fred Kellner. I had never heard of him/her/them. But my hips are rolling and my hands are high up in the air. Another coincidence: One of the soulbrothers looks exactly like my boss at the Institute For Music And Media. Crazy Mainz!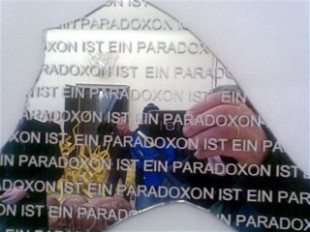 Rundgang
February 5 - Same procedure as every year - at the end of the winter term. With a group of students from my "Sensory Awareness" course I visit the Rundgang (open house) at the Art Academy in Duesseldorf.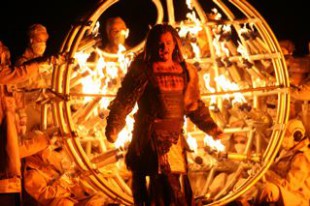 Siegfried
January 30 - A night at the opera. Richard Wagner: Siegfried by La Fura del Baus on 3sat, the German/Swiss/Austrian TVstation. Recorded at Palau de les Arts Reina Sofia in Valencia in 2008. With HDTV, Surround Sound and Bluray opera on television starts to make sense. Spectacular - especially the video projections by Frank Aleu.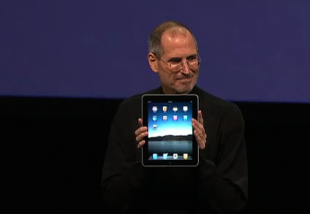 Tablet
January 27 - Steven Jobs announces the new iPad. Revolutionary tool or i-gimmick?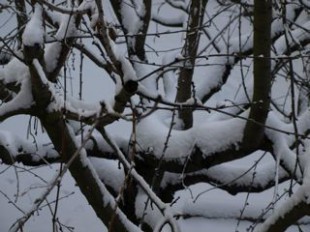 Cherry Tree
January 26 - Even more snow.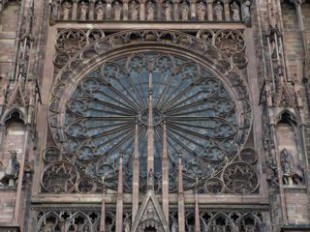 Neighbors
January 18 - A Sunday in Strasbourg. Baeckeoffe and Gewuerztraminer. Strasbourg Cathedral.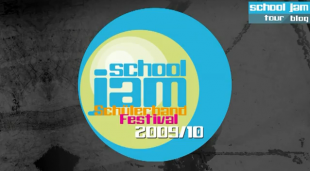 School Jam Tour Video Blog
January 22 - The School Jam is an annual contest for school bands in Germany. Since January 9th this year's tour is on: 1400 newcomers,120 of them competing for the final. Jakob Storm, one of my students at IMM, is on tour with them, travelling to 15 different cities, making interviews, taping concerts and creating an impressive school jam tour video blog.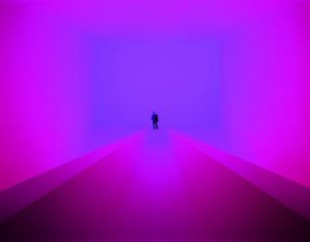 "You are looking at yourself looking"
January 12 - Excursion with a group of students to Wolfsburg to visit James Turell - The Wolfsburg Project in the Kunstmuseum. The central piece of the exhibition is Bridget's Bardo, a huge hammer shaped 11-metre-high space that covers a floor area of 700 square meters. The Ganzfeld Piece, as Turrell calls it, is a construction divided into two interconnecting chambers 'the Viewing Space' and the 'Sensing Space'. Both spaces are flooded with slowly changing colored light, that comes from 37 000 LED. Says Turell: "The Light is a charged substance that we have a primary connection with. Situations in which you notice the presence of such a charged substance are fragile. I mold it...so that you can feel the presence of the light in the room."


Cherry tree
January 9 - Snow, snow, snow - from a storm called «Daisy».

Never too old to rock
January 8 - Heartwarming TVevening with Stephen Walkers new film young@heart on DVD, a documentary feature film about an American chorus of pensioners who sing rock music. When they perform punk classics like "Should I Stay or Should I Go" by the Clash or "I Wanna Be Sedated" by the Ramones, the notion of a generation gap begins to crumble. (Stephen Holden, New York Times)

Berwang-Rinnen, Austria
January 1 - Walking in fresh snow, listening to running water.