MIT INNIGSTER EMPFINDUNG - WALTER LEVIN ZUM 80STEN | 52 Min | SWR 2005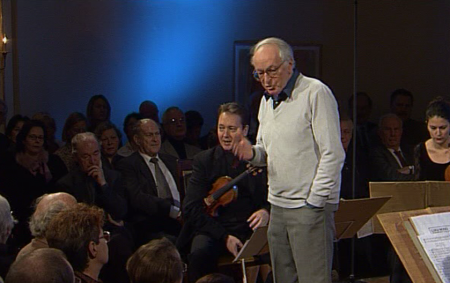 Musicfilm about a series of string quartet concerts at the Hotel Roemerbad in Badenweiler in honor of
Walter Levin's
80th birthday in November 2004. As the first violinist of the world famous
LaSalle Quartet
Walter Levin was known for his efforts to promote classical and contemporary music. "I was always convinced, that musicans, who really want to bring music to their audiences, have to be active in many ways." (Walter Levin) Today he is teaching young string quartets all over the world. Between interviews with his students, friends and family members the film features clippings of the concerts and documents the life in a grand hotel.
"He is a man who has passion for everything that interests him...And it is wonderful to see that at 80 years old infact he has gotten more passion about more things", says Ann Santen, an old friend from Cincinnatti. With Evi, Walter and Thomas Levin, Klaus Lauer, Nike Wagner, Eckart Runge, Stefan Litwin,
Minguet Quartett
, Kuss Quartett, Quarteto Casals, Pelegrini Quartet, Vogler Quartet and Prazak Quartett.
» list of all films